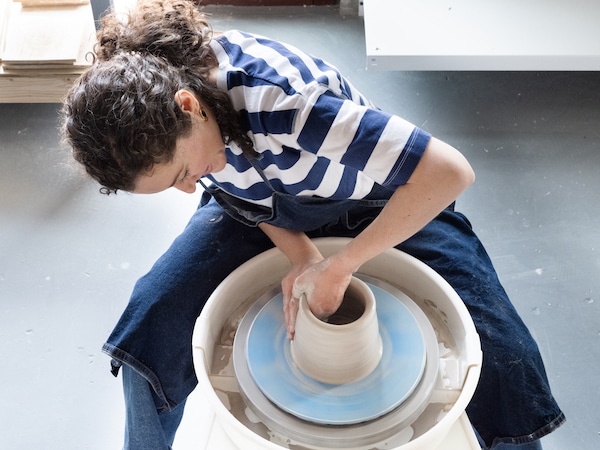 Our team specializes in sculpture, editions, and architectural ceramics utilizing techniques such as wheel-throwing, slip casting, and 3D printing in clay among other processes. We formulate bespoke glazes and fire oxidation and reduction kilns up to ∆10. We're able to offer cross-disciplinary applications with our other material shops.
services
Project management
From design concept to project planning and management, we offer consultation services to artists at any stage. We're available to produce prototypes, small-run editions, and large-scale sculptures.
Sculpture
Our sculpture expertise is wide ranging and adaptive. Our team applies expertise in classical sculpture, including anatomy/realism, tiles, and architectural work.
Wheel throwing
One of a kind—large scale and practical. Multiples, editions, etc.
Ceramic 3D printing
Thanks to our Potter Bot, we offer artists flexibility in designing and 3D printing with clay.
Mold making & slip casting
Apply mold making and slip casting to the production of highly-detailed editions and unique sculptures.
Surface decoration
Glaze, sgraffito, terra sigillata, maiolica, inlay, slip trailing, decal, and (precious metal) luster.
Glazing
We offer professional glaze application by hand and via spray glazing. Choose from over 20 proprietary and commercial glazes or formulate custom glazes tailored to your artistic vision.
Hydraulic pressing
For large editions which can be formed in a two-part mold (tiles, plates, vessels, etc.) This method allows us to press 100 – 150 pieces in one day.
Electric & gas firing
Oxidation (electric) and Reduction (gas) up to ∆ 10. We work in close collaboration with our clients to provide flexible and adaptive firing needs for projects of all types.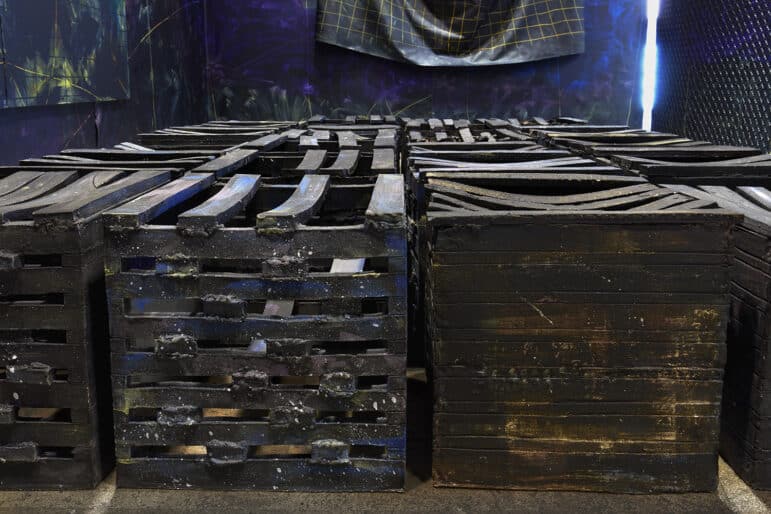 Recent collaboration
Tariku Shiferaw, A Sign in Space
For an installation in his solo exhibition at Galerie Lelong & Co., Shiferaw commissioned Powerhouse Arts to fabricate 14 ceramic sculptures based on his original work. By sculpting, hand painting, and firing on site, PHA fabricators ensured that each piece was unique.
firing and glazing services for artists working independently
We also provide firing and glazing services for work created outside of Powerhouse Arts. When renting an entire kiln, we work with artists to determine the best firing method for specific clay bodies and glazes; we supply a sample board to artists interested in our glazing services.
To get started, submit your firing and glazing inquiry. We'll be in touch soon with the next steps.
Firing services
Electric – bisque + oxidation up to cone 6 (max cone 10 for additional fee)
Bisque $0.06 per cubic inch
Glaze Cone 6 $0.06 per cubic inch
Glaze Cone 10 $0.10 per cubic inch
Small Round Kiln (23″ x 23″ x 22″ H) $243 per firing
Medium Round Kiln (23″ x 23″ x 27″ H) $285 per firing
Oval Kiln (46" L x 31" W x 27" H) $770 per firing
Front Loader (30″ W x 30″ D x 54″ H) $972 per firing (Coming Soon)
Gas – reduction up to cone 10
Reduction Cone 6 $0.09 per cubic inch
Reduction Cone 10 $0.14 per cubic inch
Front Loader (67"D x 55"W x 60"H) $6,633 per firing
Front Loader (47"D x 38"W x 44"H) $2,358 per firing
Disclaimer
The prices listed are for standard slow firings for non-Community Ceramics Studio members (to join, see below). Any special requirements or additional research and development is subject to additional fees. We take great care and pride in our firing process, but clay, as we all know, can be challenging to control and at times unforgiving. Therefore, we cannot offer refunds for any unsatisfactory results (e.g., exploding, blistering, crazing, running, etc.).
join the community ceramics studio
The Community Ceramics Studio at Powerhouse Arts provides robust facilities and resources for experienced ceramics artists, along with access to our staff for guidance and support in navigating the studio and equipment.
featured projects
Access Ceramics services
Use our Project Inquiry form to tell us about your project and needs. We'll be in touch from there to get started on your project.