featured project
Barbara Kruger, Untitled (Vase)
Project Team Members (Powerhouse Arts Staff): Biata Roytburd, Eleni Kontos
Commissioner/Funder/Presenter(s): Performa
Sub-consultants: Milestone Decal Art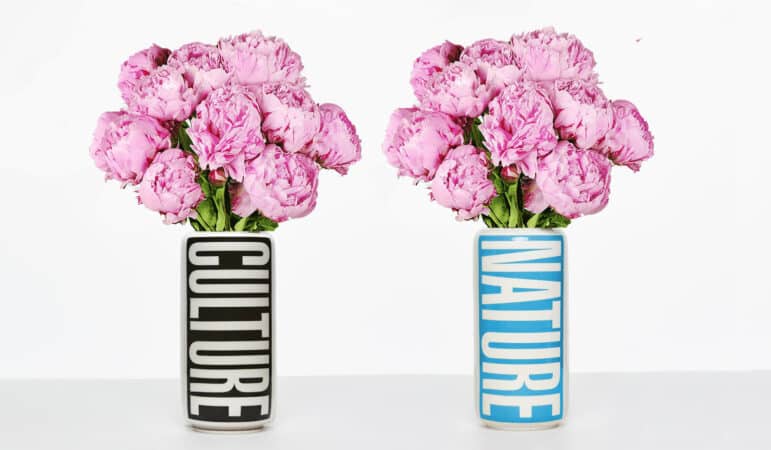 project overview
Performa approached Powerhouse Arts in May of 2020 to create an edition of porcelain vases for Barbra Kruger as a follow up to her acclaimed Performa 17 Commission Untitled (Skate) where Kruger created a series of merchandise in the guise of a Supreme "drop". The exhibition involved large text-based vinyl "pastings" as a site-specific installation at Coleman Skatepark in Manhattan's Lower East Side. The work is a critique of the structures of power and the role of culture in a Capitalist consumerist society. The limited edition vase for created for Performa's very first Telethon in November 2020.
Performa's curator Kathy Noble worked with Powerhouse Arts Director of Ceramic Biata Roytburd and Eleni Kontos to create Barbara Kruger's first vase with the words CULTURE and NATURE in black and blue in Kruger's signature Futura Bold typeface style from the 1980s. These pieces were slipcast and underwent a finishing process, glazed in a bright white glaze, and finally adorned with silk screened decals.
The first edition was finished in August. Proceeds of the sale benefit Perforrma, the internationally acclaimed organization dedicated to live interdisciplinary performance by visual artists.
The vases are available for purchase at Performa's Store.
artist biography
Barbara Kruger was born in Newark, New Jersey, in 1945. After attending Syracuse University, the School of Visual Arts, and studying art and design with Diane Arbus at Parson's School of Design in New York, Kruger obtained a design job at Condé Nast Publications. Working for Mademoiselle Magazine, she was quickly promoted to head designer. Later, she worked as a graphic designer, art director, and picture editor in the art departments at House and Garden, Aperture, and other publications. This background in design is evident in the work for which she is now internationally renowned. She layers found photographs from existing sources with pithy and aggressive text that involves the viewer in the struggle for power and control that her captions speak to. In their trademark black letters against a slash of red background, some of her instantly recognizable slogans read "I shop therefore I am," and "Your body is a battleground." Much of her text questions the viewer about feminism, classicism, consumerism, and individual autonomy and desire, although her black-and-white images are culled from the mainstream magazines that sell the very ideas she is disputing. As well as appearing in museums and galleries worldwide, Kruger's work has appeared on billboards, buscards, posters, a public park, a train station platform in Strasbourg, France, and in other public commissions. She has taught at the California Institute of Art, The School of the Art Institute of Chicago, and the University of California, Berkeley. She lives in New York and Los Angeles.