featured project
Gina Beavers, Vase Lips
Project Team Members (Powerhouse Arts Staff): Biata Roytburd, Eleni Kontos, Katie Coughlin
In Collaboration with Exhibition A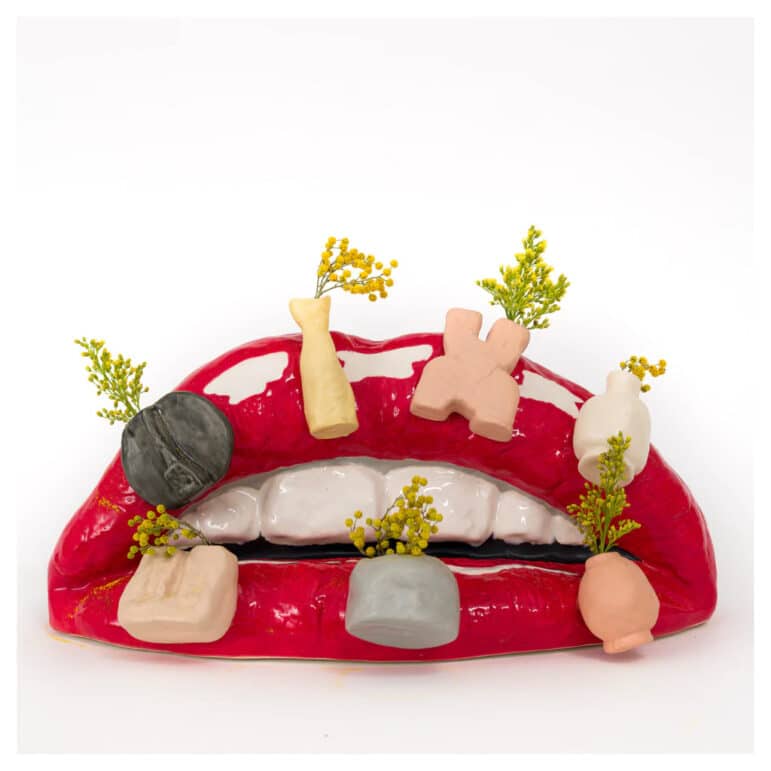 project overview
In Fall of 2021, Gina Beavers and Exhibition A approached PHA to fabricate a limited edition of
25 ceramic sculptures. Vase Lips is the artist's first functional sculpture edition.
Influenced by online make-up artists who decorate lips with rhinestones and other elements,
Beavers says Vase Lips "was born from the idea that I would try to make a vase. Sculpting with
only my hands and a few tools in air-dry clay, it would have the definite feel of a handmade
object. I decided it would be a set of lips with vases embedded, where the vases could be
functional for small flowers or remain empty, becoming an alternative take on a traditional vase,
as well as a comment on make-up, design, and digital culture."
Beavers and Exhibition A collaborated with PHA to produce the editions for this series, which
was released as an exclusive edition on ExhibitionA.com in January 2022.
artist biography
Gina Beavers (b. 1974, Athens, Greece; lives/works Orange, NJ) has presented solo Exhibitions
at MoMA PS1 in New York (2019), Neuer Essener Kunstverein in Essen, Germany (2021),
Marianne Boesky, New York; Various Small Fires, Seoul; Carl Kostyal, London and Milan;
GNYP Gallery, Berlin among others. Her work has been included in group presentations at the
Barns Art Center, the Schlossmuseum Linz, Austria; Frans Hals Museum, Netherlands; Nassau
County Museum of Art, New York; Flag Art Foundation, New York among others. Her shows
have been reviewed in the New York Times, the New Yorker, Frieze, Artforum, Art in America
among others. She is included in the permanent collections of the Whitney Museum, the
Kistefos Museum in Norway, the ICA Miami and the Tel Aviv Museum of Art.