featured project
Jenny Polak, Wall Tiles
Project Team Members (Powerhouse Arts Staff): Biata Roytburt and Eleni Kontos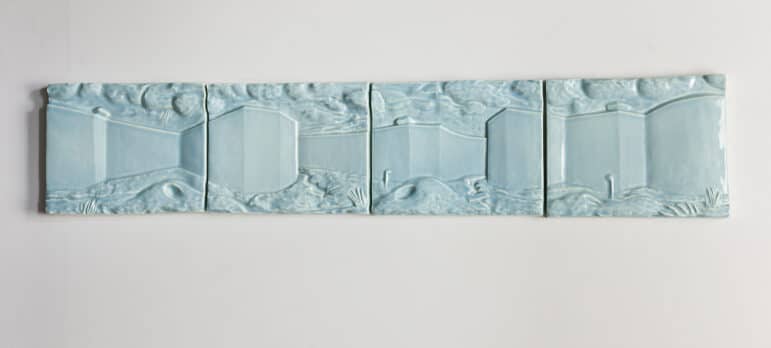 project overview
In Spring of 2021, Powerhouse Arts collaborated with artist Jenny Polak to fabricate a series entitled Wall Tiles, consisting of four different slip-cast ceramic bas-relief panels. The imagery within these works forms a frieze depicting prison walls looming large amidst banal golf course imagery, both of which are rendered rather unexpectedly in glazed ceramic tiles at a domestic scale. The tiles highlight the dangerous normalization of incarceration and border violence.
The Powerhouse Arts Ceramic Studio Director Biata Roytburd worked with Polak to create the tiles as prototypes. Roytburd created slab tiles for the artist, Jenny Polak, who carved and sculpted the slabs. These four relief tiles were used to create plaster molds to produce the tiles, which are to be exhibited in continuous groupings. Each tile measures 7.5 in x 9.5 in x 1 in and is an edition of 9 rendered in a custom glassy blue celadon which accentuates the carvings beautifully.
artist biography
Jenny Polak makes site and community responsive art that reimagines domestic space as a political arena and gathers people to amplify demands for social justice in public space. Originally from England, her art draws on her background in architecture and includes architectural installations, drawings and useful commemorative objects. The artist's family history of migration drives her to examine detention centers, racial profiling, and strategies for surviving hostile authorities. Her fictional firm "Design For The Alien Within" creates hypothetical hiding and dwelling places, symbolic lookout and counter-surveillance structures.
Polak's art, collaborations and site-specific projects have been exhibited widely and awarded support by Socrates Sculpture Park, NYFA, the Graham Foundation for the Advanced Study of Visual Art and Franklin Furnace, among others. She has held artist residencies including with the National Park Service, Newark Museum, Lower Manhattan Cultural Council, and the Lower East Side Tenement Museum. While the Artist-in-Residence at Northwestern University, Polak conceived the long-term project Mobile Speakers' Podium for Citizens and Non-Citizens, currently appearing in locations around Chicago, to highlight and promote community and artist activism against deportation and the for-profit prison industry.