featured project
Bruce M. Sherman, Infinite Columns
Project Team Members (Powerhouse Arts Staff): Biata Roytburd and Eleni Kontos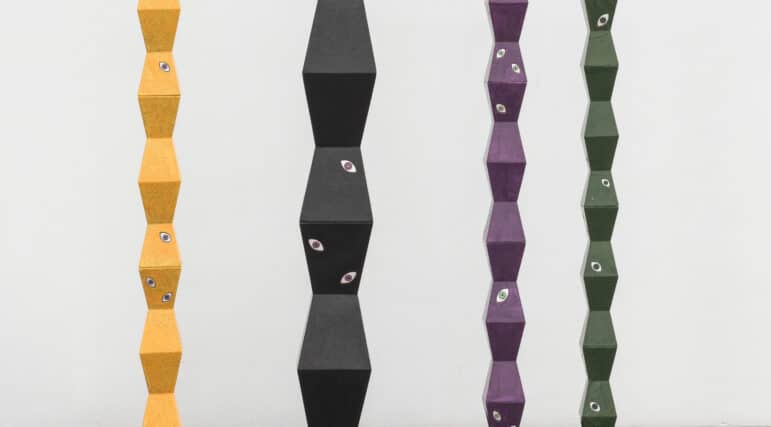 project overview
Artist Bruce M. Sherman commissioned Powerhouse Arts to fabricate a series of ceramic sculptures for a new body of work entitled Infinite Columns. The works reference Brancusi's Infinite Column and assert a connection between the earth and the celestial realm in their prominent verticality.
Sherman engaged Powerhouse Arts with the artwork concept that was translated into a paper prototype of the sculptures, from which the ceramic team calculated the necessary aspect-ratio to achieve the artist's intended scale. The team produced custom molds to achieve precise pyramidal sculptures to be assembled, as a modular unit, stacked atop one another to achieve varying heights.
The columns are incised with eyes, a leitmotif in Sherman's work that implies the works are animate and self-aware, further reinforcing the sentient qualities of his work. The eyes are hand-rendered, an intentional juxtaposition against the rigid geometry and precise angles of the columns.
The works were delivered to the artist in a bisque-fired state, from which he applies bespoke glazes and finishes in his studio. They are intended to be exhibited both as singular columns and in groupings of various heights, creating a synergy between the upward-reaching forms.
The works were exhibited in summer 2020 at Drive-by-Art exhibition at South Fork, Long Island, and are included in the exhibition MASS ORNAMENT: Pleasure, Play, and What Lies Beneath, curated by Alison M. Gingeras, at South Etna Montauk, NY.