featured project
Autumn Knight, The Kitchen OnScreen: Autumn Knight
Project Team Members (Powerhouse Arts Staff): Luther Davis
Commissioner/Funder/Presenter(s): The Kitchen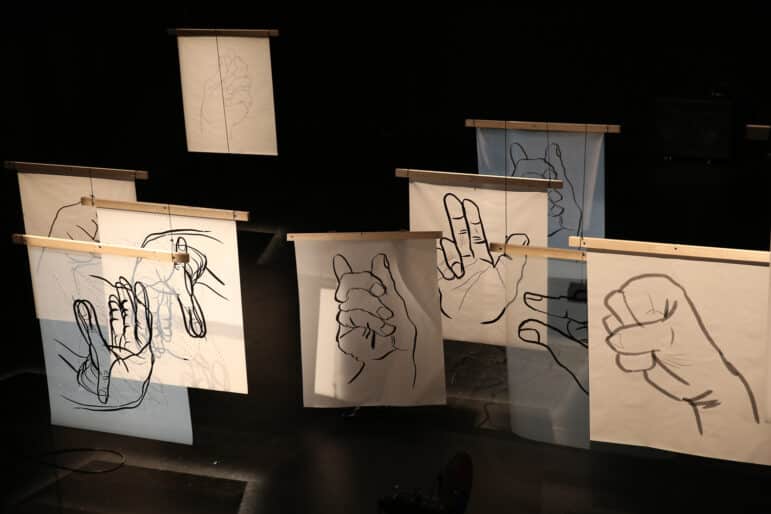 project overview
During a residency in The Kitchen's building at 512 West 19th Street, Autumn Knight created a new project to be viewed by online audiences. This project merged the artist's practice of improvisation with new text, choreography, and sculpture that responds to the architecture of the space.
Knight worked with Powerhouse to create a series of prints as part of a sculptural installation in dialogue with the architecture of the space at The Kitchen. In this series, the scenes in the work were inspired by The Wiz, a musical adventure fantasy film with an all-Black cast from 1978. Knight explores themes of isolation, anxiety, and gaslighting in this current moment in the United States. The print series was displayed in The Kitchen's vacant theater, made public to audiences exclusively online, a further investigation into the illusory quality of performance and the dynamics of disappointment as a catalyst for collective action.
The Powerhouse Print Team screen-printed 12, 60" x 48″ digital prints depicting hand gestures rendered in the form of banners on a variety of substrates that included sheer "backlit" satin fabric and clear polycarbonate, allowing for different transparencies and opacities. These banners were suspended from The Kitchen's theater grid and were also featured in the artist's video performances live-streamed on The Kitchen OnScreen, the organization's new website for online programming.