featured project
Michael Joo, On the Passage…
Project Team Members (Powerhouse Arts Staff): Ben Cohen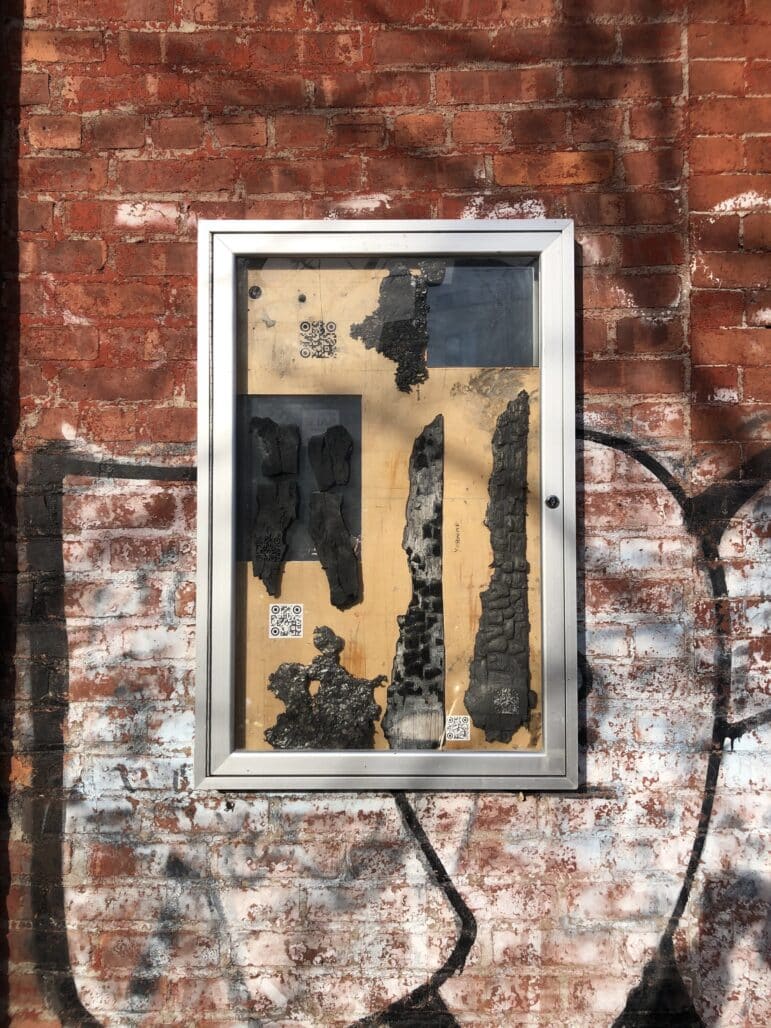 project overview
Artist Michael Joo approached Powerhouse Arts for support in milling a QR code in the materials of carbon, wood, and iron for his exhibition On the Passage at CLEA_RSKY, in collaboration with the Smithsonian Institute. The QR code is a functional sculpture: when scanned, it leads to an archive of images, artifacts, and information that add layers of contemplation to the installation.
Powerhouse Arts' Wood, Metal, and Digital Fabrication team first received a digital file of the QR codes. After identifying the tooling required to process unusual materials like charcoal and rough cast iron, Ben Cohen, Powerhouse Arts' Director of Wood, Metal, and Digital Fabrication also confronted the challenge of handling and securing the fragile materials for milling. The team resolved to create custom cradles to securely hold these parts on the CNC machine. Materials were first spliced in half, to create a smooth surface upon which to render QR code design and then used the CNC machine to engrave the surface. The CNC machine was also used to create custom "pockets" in the plywood panel where selected objects could be inlaid for display at CLEA_RSKY. The QR codes in Michael Joo's On the Passage serve as online portals. From a shifting series of curated found objects and relics in Joo's Red Hook studio, to photographs of the artist's processes and projects in contested and liminal spaces such as the DMZ or Trans-Alaska pipeline, to other nearby sites triggering AR content from the Smithsonian archives, the artist's work explores themes of indexicality and traces objects through time and space, interrogating shifting states of meaning and context when objects are removed, transposed, or relocated.
A statement from CLEAR_SKY describes the exhibition as follows: All cities are
geological. You can't take three steps without encountering ghosts bearing all the
prestige of their legends. We move within a closed landscape whose landmarks
constantly draw us toward the past. Certain shifting angles, certain receding
perspectives, allow us to glimpse original conceptions of space, but this vision remains fragmentary: castles, endless walls, little forgotten bars, mammoth caverns, casino mirrors.
The CLEA_RSKY exhibition dates are January 22 through March 13, 2021