featured project
Elliot Jerome Brown Jr., Elliot Jerome Brown Jr.
Project Team Members (Powerhouse Arts Staff): Luther Davis, Dennis Hrehowsik, Elias Leon, Angélica Maria Millán Lozano
Commissioner/Funder/Presenter(s): Nicelle Beauchene Gallery
Other Fabricators: Chroma Center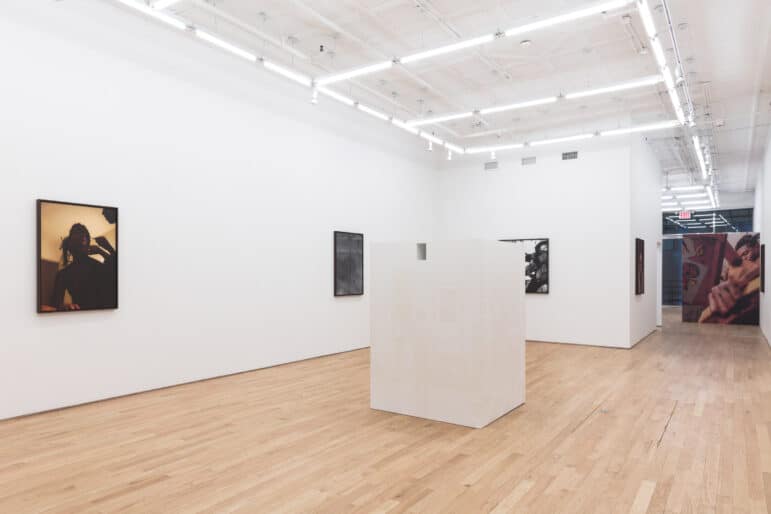 project overview
In January of 2022, Nicelle Beauchene Gallery commissioned Powerhouse to screen print portraits for a self-titled solo exhibition by artist Elliott Jerome Brown Jr.
The exhibition presented a series of new portraits and abstract photographs as a reflection on materiality, memory, and intimacy. As a complement to the 2D photographs hung on the wall, two large sculptures — one reminiscent of a freestanding cross-section of a wall and the second akin to a wooden cube or gallery pedestal — explore the structural aspects of images.
For the project, the Powerhouse Print team screen-printed pearlescent portraits taken by the artist directly onto the white outer facades of the wooden pedestal. Though the Powerhouse Print team is known for its ability to screen-print in large formats on paper, this process marks the largest sculptural object upon which the team has screen-printed an image, with each facade measuring nearly 6 feet tall by 3 feet wide. Recessed tunnel-like niches have been constructed into the pedestal through which guests are invited to view an image face-mounted onto the back opening of the tunnel.
Powerhouse also contributed several of the printed images that comprise the freestanding cross-section of the wall with one full bleed image (divided into three panels) printed on the front and several images intersecting one another at the back.
The exhibition opened to the public at Nicelle Beauchene Gallery on January 20, 2022 and remained on view until February 26th, 2022.
artist biography
Elliott Jerome Brown Jr. (b. 1993) lives and works in New York. He has had solo exhibitions at Nicelle Beauchene Gallery, New York (2022, 2019); Staple Goods, New Orleans (2019) and Baxter St. at the Camera Club of New York (2019). Recent group exhibitions include Swiss Institute, New York (2021); RISD Museum of Art, Providence (2021); The Arts Club of Chicago (2020); New Orleans Museum of Art, New Orleans (2020); Public Art Fund, New York (2020); The MAC, Belfast (2019); PPOW, New York (2019); Studio Museum in Harlem, New York (2018); Yossi Milo Gallery, New York (2018); Leslie-Lohman Museum of Art, New York (2018); We Buy Gold, New York (2018), among others.
Recent museum acquisitions include the Studio Museum in Harlem, New York.