featured project
Faith Ringgold, Woman Looking in a Mirror
Project Team Members (Powerhouse Arts Staff): Zaire Anderson and Dana Wood Zinsser
Commissioner/Funder/Presenter(s): ACA Galleries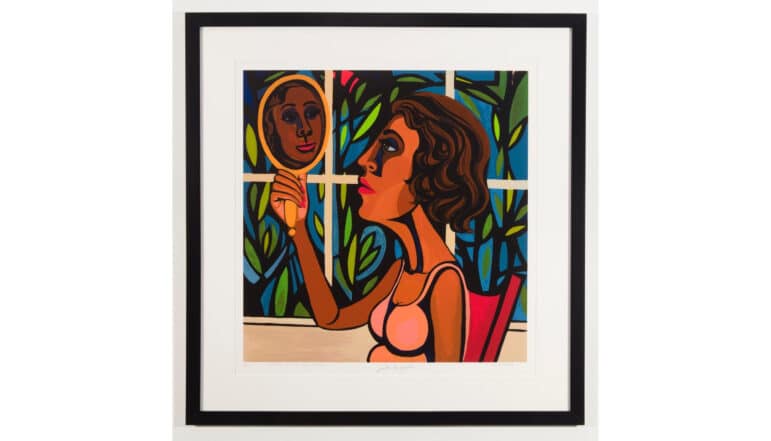 project overview
ACA Galleries commissioned Powerhouse Arts to produce an edition of 113 prints of Faith
Ringgold's 1966 painting entitled Woman Looking in a Mirror. The prints were included in the
exhibition "Prints and Multiples" on view from March 16 to June 17, 2022
To transform the painting into a fine art print, it was necessary for the Powerhouse Arts
Printshop to address the layered painting texture espoused by Ringgold for the original painting.
The color separation process then required meticulous attention, as the print required 40 colors
on a total of 50 screens. The printmakers started with a light sketch of the original line work to
map out all the original colors and then added spot colors, a process by which each color is
printed on an individual screen. The team printed the blackest black and the whitest white in
order to get a full value range to judge the rest of the colors. As each additional color is printed
the print fully comes into focus. The process yielded a 28.5" x 28" print on Coventry 335 gsm
paper. Ringgold's Woman Looking in a Mirror was on view with ACA Galleries in Spring of 2022.
More information about the artwork is available at the galleries' website via this link.
This is the 3rd print edition the print team collaborated with Faith Ringgold.
artist biography
Faith Ringgold, born 1930 in Harlem, New York is a painter, mixed media sculptor, performance
artist, writer, teacher, and lecturer. As important to the overall culture of America as she is to the
specifics of contemporary American art, her earliest breakthroughs during the turbulent decade
of the 60s continued into the new millennium. Faith Ringgold maintains her stature as a creative
and cultural force, one whose relevance today cannot be understated.
Ringgold's work is in the permanent collections of numerous museums in the United States and
abroad including The Art Institute of Chicago, IL; The Baltimore Museum of Art, MD; The Boston
Museum of Fine Art, MA; The High Museum, GA; The Metropolitan Museum of Art, NY;
Museum of Modern Art, NY; Whitney Museum of American Art, NY; Solomon R. Guggenheim
Museum, NY; The Brooklyn Museum, NY; The National Museum of American Art, Washington,
DC; The Philadelphia Museum of Art, PA; The Studio Museum, NY; Glenstone Museum, MD
and The Victoria and Albert Museum, London, England, among others.
Known for her oil paintings from the 1960s and Faith Ringgold's narrative painted story quilts,
she created a body of work in the 1970s that reflected political activism and her personal story
within the context of the women's movement. Faith Ringgold was one of a very small group of
black women who helped galvanize the Black and Feminist Art Movements in New York in the 1970's.
This body of work, including tankas and soft sculptures, led to Faith Ringgold's painted story quilts.