featured project
Okwui Okpokwasili, On the way, undone
Project Team Members (Powerhouse Arts Staff): Kelsey Knight Mohr and Nellie Davis
Commissioner/Funder/Presenter(s): The High Line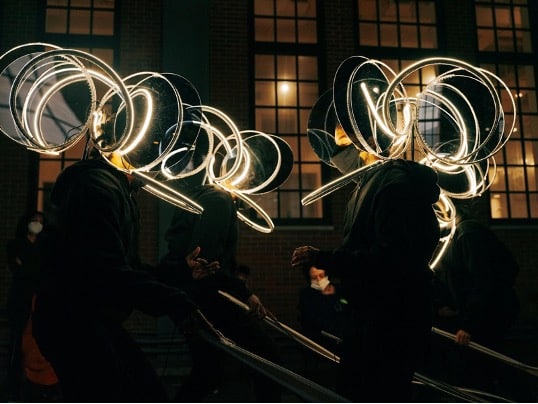 project overview
Okwui Okpokwasili worked with Powerhouse to adorn a series of headpieces for the performance On the way, undone, performed in May 2021 on the Highline, inspired by Simone Leigh's Brick House. On the way, undone reimagines black hair as an antenna or a receiver of signals from the past and the future. The performance is both an homage and a pilgrimage: performers trace a path through the park to Leigh's magnificent sculpture at 30th Street.
The metal structures for these headpieces are ready-made marching band harnesses. Okwui expressed an interest in West African threading, a traditional hair style that involves wrapping thread around sections of hair. During the trial phase of fabrication, Director of Textile Kelsey and the textile team experimented with reflective tapes and fabrics that were tested with various wrapping methods. The wraps were intentionally spread out to give the silver a high contrast background so the individual strands could be seen at a distance, and to reveal their handmade nature. The team landed on a spray-painted navy blue base wrapped in metallic silver yarn. During On the way, undone, the adorned harnesses were worn backwards and under hoodies.
Okwui and her collaborator, Peter Born, were interested in the concept of looking forward and looking backwards — as a way of learning wisdom from the past through the vantage point of the present. A mirror was therefore attached to create a double vision and simultaneously amplify the performers' voices.
The LED lights in the headpieces were painted with a mix of silicone paint applied with a briar technique that the team innovated. The strip lights were rewrapped in monofilament to secure them safely to the metal structure without impeding the light itself or the silver wrapping below. Overall, the headpieces are composed of thousands of wrappings, 10 yards of distance per piece, and 40 yards per piece wrapped individually.
artist biography
Okwui Okpokwasili is a writer, performer, and choreographer. In her multidisciplinary performances straddling theater, dance, sound, and visual arts, Okpokwasili evokes the memories of women—of adolescent sexual awakening in the inner city (Bronx Gothic, 2014), forgotten women engaged in embodied revolt in the Women's War of 1929 and the threads of that action in the Bring Back our Girls movement (Poor People's TV Room, 2018), and of a young girl who refuses to have her hair straightened, as it's a direct link to the spiritual plane (Adaku's Revolt, 2019). Her virtuosic performances quake through the fissures of interior and corporeal experience, realized amid spare sets designed by her husband and collaborator Peter Born.
Photo Credit – Liz Ligon