featured project
Rodrigo Moreira, Desiiiire/Diiiistortiiiion and Body/Meat
Project Team Members (Powerhouse Arts Staff): Zaire Anderson and John Bartolo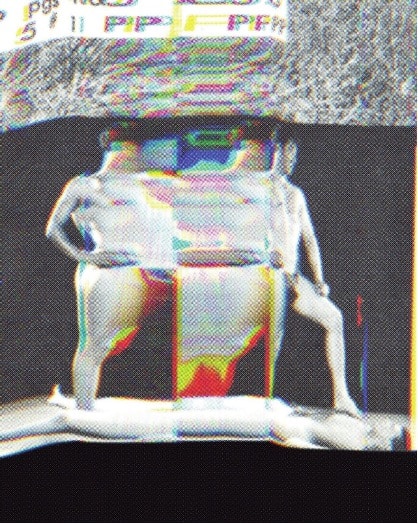 project overview
Desiiiire/Diiiistortiiiion and Body/Meat are a series of prints by Rodrigo Moreira produced in 2021 in collaboration with Powerhouse Arts. For this project, Moreira worked with Powerhouse to print photo-collages from two existing bodies of work titled Desiiiire/Diiiistortiiiion and Body/Meat, which amounted to an edition of 15 prints measuring 20 x 16 inches on Coventry Rag paper in CMYK with a grey wash.
Moreira's graphic design expertise contributes to his digital photo-collages that defy normative notions of gender and sexuality. Prints from Desiiiire/Diiiistortiiiion incorporate vintage portraits of bodybuilders, distorted through experimental applications of scanning techniques. His related series Body/Meat also combines vintage portrait imagery of bodybuilders juxtaposed against imagery of meat advertised on supermarket flyers. The work relates to mass media communication, body image, desire, and consumption.
Moreira initially participated in Powerhouse Arts' monthly Virtual Consultations where he met with Luther Davis, Powerhouse's Printshop Director. During the consultation, they discussed the process of translating digital images Moreira created during the height of COVID-19 into prints. Moreira presented a variety of images to Luther and they both talked about the challenge of sourcing printed material in CMYK with the goal to print in CMYK again, a process that involved a few tricks for a successful result. In February, Moriera engaged our print team to produce the project achieving Moreira's desired CMYK tones for the work and finalized it in April.
For more information on Moreira's work, visit his website: www.rodrigomoreira.com.br